After stepping over Malcolm Turnbulls twitching political corpse, has our latest PM got what it takes to lead Australia into a renewable future?
"There go the people. I must follow them, for I am their leader!" quote attributed to Alexandre Auguste Ledru-Rollin
You don't get far in politics without possessing a fairly large chunk of Rat Cunning (Note: I was going to write Shithouse Rat Cunning, but I'm not sure this phrase would have survived the editing process… you'll just have to mentally add the word in yourself).
So, it's fairly safe to assume that to get to the top of the steaming political pile, you must have slightly more rat cunning than your nearest (and non-dearest) opponent.
If this is the case, then Scott Morrison had the inside edge in the rat cunning stakes to pick up the highly coveted, weekly pay packet of the Australian Prime Minister. Mind you, he was competing against the delightful Mr. Dutton, so it was pretty much a one rat race.
Anyway, Scott's in the Big Boys Chair now, and after nearly three years in the job, what is his political legacy?
At this point, I think it's sneaking off for more holidays than any other sitting PM. Shamelessly organising less parliamentary sitting days. Gutlessly shutting down question time every few minutes to avoid accountability. Zero engagement with journo's outside his 'pet media kennel'. Sports Rorts. Robodebt. Maximum smirk. Angusgate (Angus everything!) Record national debt. Media censorship which would have impressed Mao. Building refugee supermax prisons. Having more marketing people fawning around him taking badly staged photos and, chiefly, being allowed to get away, Scott Free, with the political equivalent of murder.
That's one hell of a legacy!
Even now, his greatest boast is 'I Stopped the Boats.' But how he actually did this remains shrouded in mystery, as he always replied to any questions re: boat turn-backs, with the standard response: "That's an on-water matter."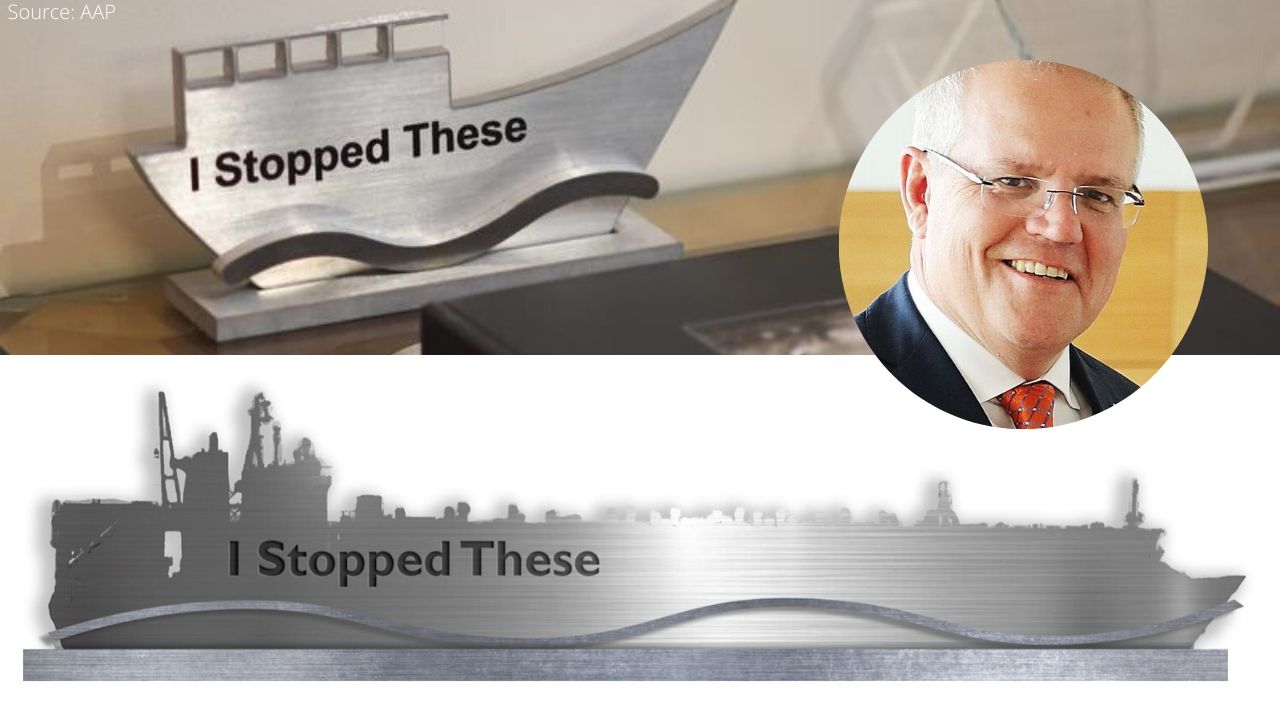 Look, is it just me, or does anyone else think this is a sure-fire sign he gleefully signed off on methods so inhumane, or illegal, they would make his mother cringe in shame if they were to be made public?
Luckily for him, after scribbling down '… on water matter', the all too compliant journalists would put away their pencils then dash off to find some struggling, poor, stupid, black or foreign looking person to criticise, condemn or humiliate.
Then in 2018, seconds after nobly wrapping his arm around his embattled leader, PM Malcolm Turnbull, Scott pocketed the keys to the lodge while Mal's political corpse lay twitching on the ground in front of him.
The mantle of leadership didn't change him much, as he continued to dodge questions, e.g.: 'I don't accept the premise of that question.' 'It's not up to me to comment on such matters.' 'I don't hold a hose mate.' 'That's a matter for the states.' 'That's a matter for the minister concerned.'
What he actually takes responsibility for, apart from basking in the glory of others' success, is yet to be revealed.
Still, for better or worse, the failed marketing guru has been given a rare opportunity to make a real mark on our country.
Unfortunately that mark so far is the decaying Great Barrier Reef, the ongoing imprisonment of a refugee family from Biloela, a recession, the destruction of the ABC, rampant de-forestation and dead, and fracked farmlands.
Scotty's not exactly knocking it out of the park at the moment.
But, the savvy King Rat is constantly sniffing the air and, somewhere above the fetid pong of rotten cheese coming from his own front bench and the decaying privilege of his backbenchers' seats, he must sense change?
'The people are leaving. I must follow them, for I am their leader.'
The PM may not be aware of this quote, but in his political heart, he knows what he must do to stay on the payroll he has clearly grown so accustomed to.
The people, and progress, are moving on. Solar roof top take up is growing at a rapid rate, hybrid and electric car sales are off the charts and big businesses, banks and super funds, tired of waiting for political leadership on Climate Change and reliable, renewable electricity options, are taking matters into their own hands and walking away from fossil fuel investment (much to the foot-stomping annoyance of the Minister for Coal Mining Barons, Matt Canavan).
Surely even the shrewd, smirking shill who presented a lump of coal to the Australian Parliament, must realise Old King Coal cannot be relied on to carry Australia's economy into the next century, or perhaps, even the next decade?
Regardless of what the brazen, corporate, mining lobbyists (and an increasingly desperate sounding Matt Canavan), are telling him.
Will the man, who dubbed himself Scomo, continue to pile all his political chips into a dirty, old coal wagon and hope for the best?
Or, will he finally dig up a little courage and show some real leadership by following the people?